ADPI Announces Jim Page Memorial Scholarship Recipients for 2021
ELMHURST, IL – The American Dairy Products Institute® (ADPI) is pleased to announce that they have selected three recipients for the 2021 ADPI Scholarship Award Program. The three recipients of the Jim Page Memorial Scholarships, Yasmira Alverez of Patterson, California, Mary Greer of Ballwin, Missouri, and Lydia Rockers of Carthage, Missouri, were each presented with $2,000 scholarships at the 2021 ADPI/ABI Joint Virtual Annual Conference.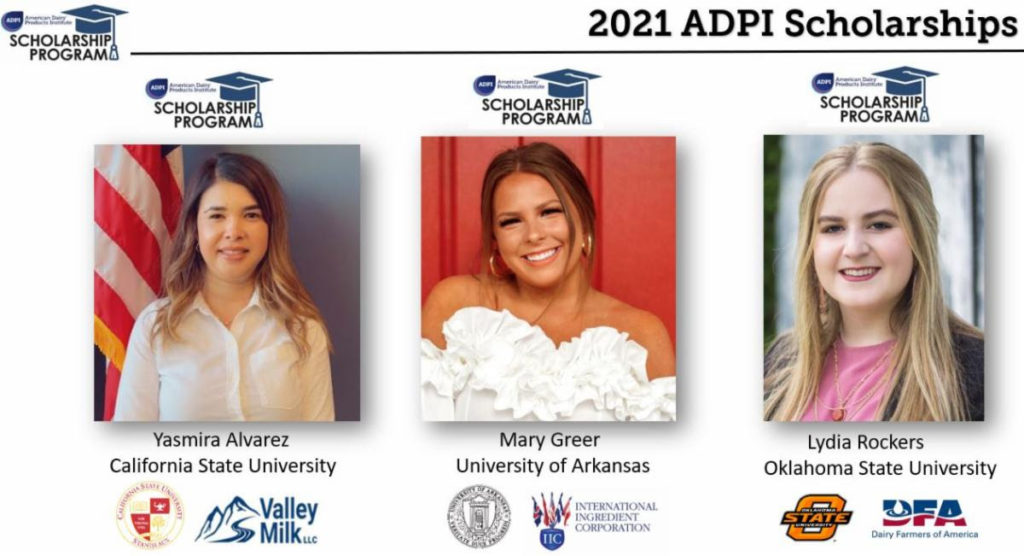 Yasmira Alverez is currently pursuing a degree in Business Administration with a focus in accounting at California State University. Yasmira has worked as the Accounting Manager for Valley Milk, LLC, since they opened for business four years ago. She looks forward to a pursuing a CPA or MBA, with accounting and consulting as a future goal.
Mary Greer is currently a student at the University of Arkansas pursuing a degree in Marketing at the school of business. Mary will start her senior year this fall where she will continue her involvement as a member of the Future Women in Leadership Club. Mary is currently interning at International Ingredient Corporation for the summer, giving her the opportunity to expand her knowledge and understanding of the food and dairy industries.
Lydia Rockers is a senior at Oklahoma State University pursuing a degree in Food Science. Rockers is currently interning this summer with Dairy Farmers of America in the Process Technology Group. Lydia's interest in food science stems from a love of chemistry, agriculture and culinary arts. Her overall goal is to work within the research and development of food products or food safety and quality assurance in the dairy industry.
The Jim Page Memorial Scholarship was created in memory James J. Page. Jim enjoyed a distinguished marketing career in the dairy industry and served as the Chief Executive Officer of ADPI from 2002 through 2008.
ADPI provides the opportunity to compete for and earn scholarships to its member's employees, and/or dependents of thereof each year in association with established qualifying criteria. For more information on the ADPI Scholarship Program, visit the ADPI website: www.adpi.org.

About ADPI
ADPI is the leading national dairy trade association representing manufacturers, sellers, marketers, traders, distributors, equipment and service providers related to dairy products, ingredients, and proteins. Our mission is to increase the worldwide use of dairy-based ingredients through the collaborative and pre-competitive resources comprising its membership. ADPI is widely known as the "go to authority" on dairy derived ingredients and product standards within the industry. ADPI is an organization of members, by members and for members. For more information, visit our website at www.adpi.org.